My dear harishkutta,

Today is Karthika.....the envelope that you sent me is lying right beside as I write this. Somehow being away from home is making me very very nostalgic about Karthika. The lamps, the aura of the festival, the silent and peaceful evenings..........Miss it all.

You may not remember the fun we had when we were growing up. Though I keep forgetting most things, childhood memories seem to be etched in my mind forever.

I even remember the day you were born as clear as day. I was studying in UKG then, it was a strange day for me because instead of amma helping me get ready for school that day, it was appa who did everything and then he asked me to be a good girl and said that there was gonna be something new when I come back after class. But I dint know why he looked so tense if there was going to be a surprise. I thought mom was sick and maybe something bad was going to happen to her.

When I came back home for lunch, I was really scared to see our home empty. My first thought was that everyone has run away somewhere leaving me alone. The maid servant could not answer any of my questions. Then dad came over and took me to a big building in his red scooter (in which I used to love standing in the front and let the wind hurt my eyes). I saw amma sleeping inside a white room and you were lying inside a cage. An ugly boney thing.

My little brother.

It took me quite a few days to realise that from now on I would have to share my world with you. But then my dear brother, you must be the most easy-to-be-with brother ever. You used to lie around sucking your thumb without a care in the world, never interfering in any of my business. How many times have I rocked you to sleep in those cloth thoolis. (Used to be so jealous of you then for all the attention you got!)

You were my figthing partner during all those care-for-nothing years.

Be it fighting over who gets the bigger piece of cake

fighting over which cartoon to watch

fighting over who gets to lie in appa's oh-so-comfortable lap and watch TV



In the rocking chair


fighting over which way to make Maggi

fighting over who gets the maximum vishu-kaineettam

fighting over who is taller (I've lost it forever now)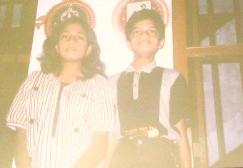 Look who's taller :P


bets on WWF championship

fights over who gets to use the PC and the internet late at night

blaming each other for peeing in the bed

fighting over which CDs to buy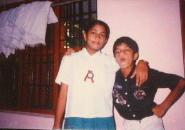 School days


all the April fool pranks we've played on all our neighbours

sharing T-shirts and jeans

playing video games together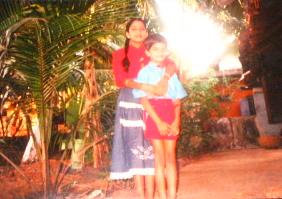 You and me


how you ALWAYS used to run away when I came near you to give you a hug

gorging on Pizzas under amma's unapproving glares

taking care of the kittens...oh well...u did the most part of it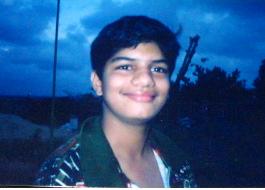 How chubby you were


how you never kissed my cheek even after my repeated requests(you were so girl-shy!)

fighting for the best place in the bed

fighting over why I always get to buy more clothes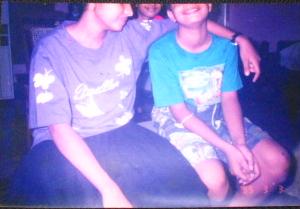 Happy us


how you patiently listened to all the advices I doled out once in a while

discussions on all the small things

how u used to update me on happenings at home when I come back on short vacations,

fighting over who gets to drive the kinetic and then later the car

how you used to patiently eat all the stuff I used to 'try' to cook creatively


We have come so far and here's something for all those karthikas when you have made me feel special, dear brother today is your day or maybe OUR day.

Miss you very much.

love
your akka, whom u have never called akka!


ps: lets fight once more.....WWF style when I come home this time.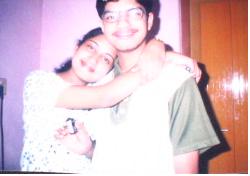 One picture says it all