I love Mumbai for the food. The vada-pav. The pani-puri. The pav bhaji. The sugar cane juice. The kachori. The sizzlers.

I also hate Mumbai for the food. Especially for all the oil they put into it so generously. In the last month, I'd have consumed more oil than I have in the last 2 years. It makes me sick just seeing the golden yellow oil dripping out of almost any preparation that passes off as food here.

But then I got introduced to Just Around The Corner, and forgave Mumbai for all the damage caused by the oil.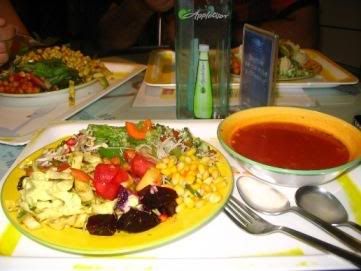 Now before you can fully understand why I feel so strongly about JATC, you have to understand certain things about me.

- I am a health food freak. You tell me cockroach antennae are good for eyesight, I might actually consider snacking on them over tea.

- I love to see green in my plate. The greener the better. Be it palak or just plain green leaves in the salad. Sometimes, it gets so obsessive that I got to thinking that maybe there's more to this. Is that why a cow followed me and entered our home when I was a kid? A long lost relative? I would rather not pull at that thread.

- I eat very small portions and I don't like wasting food.

That's why JATC was a perfect dinner place for me. My food was colourful. Lots of greens and reds and yellows. Yummy soup. I got to choose what I wanted on my plate and could pile up as much as my plate could carry. I get to dress it up with what I liked too. And I didn't have to waste a morsel.

Loved the place. Loved the ambience. Loved the food.

You will love the place too if you enjoy good food and don't really mind the couple in your neighbouring table who tend to make out every 10 minutes. And with plenty of sound effects.

Thanks to the lovely couple who took me to Just Around the Corner in Bandra, Mumbai. I hope there's a JATC in Bangalore too.